From Halifax – words by Richard Scott
Six years have passed since the last Nova Scotia club won Canada Soccer's National Championships and it would be a tremendous moment if one of three Nova Scotia clubs could win this year's title in Halifax. United Dartmouth FC are representing the province on the women's side in the Jubilee Trophy competition while Suburban FC and Western Halifax FC are competing on the men's side in the Challenge Trophy competition.
United DFC and Suburban FC are this year's provincial winners while the 2017 national champions Western Halifax FC are back together for a run at the Challenge Trophy in 2023. Western Halifax FC are one of five different Nova Scotia teams that have won Canada Soccer's National Championships in the past, but it has yet to be done in their home province.
To win this year's National Championships, a team needs to first win their group after four round-robin matches across five days from Wednesday to Sunday. On Monday's Teck Finals Day at Mainland Commons, the Jubilee Trophy Final kicks off at 09.30 local (08.30 ET / 05.30 PT) followed by the Challenge Trophy Final at 12.30 local (11.30 ET / 08.30 PT). Both matches will be broadcast live on Canada Soccer's Youtube page CanadaSoccerTV. Fans can also follow the Toyota National Championship through Canada Soccer's digital channels on Facebook, Instagram, Youtube and Twitter featuring the hashtag #ToyotaNatChamps or by visiting the competition website at https://canadasoccer.com/events/toyota-national-championships/.
"When we found out that Halifax was hosting, given our success in the past, it was a unified decision to come back together and give it one last go," said Alan Jazic, the Western Halifax FC Head Coach. "With the excitement of Halifax hosting and (with our players) still all having the love for the game, it's just great to be back as a group."
All three teams have points from the first two days of the competition. United DFC lost their opener 2:0 to CS Mont-Royal Outremont, but then won their second match 2:1 over Caledon United FC. On the men's side, Suburban FC got a point from a scoreless draw with Feildians AA on the opening night, then lost to their provincial rivals Western Halifax FC who won 1:0 in their first match of the 2023 tournament.
"We come into a tournament like this to do our very best and represent Nova Scotia, so getting off to a start with three points is essential in a tournament like this," said Jazic. "We think we have a strong side and if we stay healthy and work together, we can do it for sure."
Halifax King of Donair were the first Nova Scotia team to win Canada Soccer's National Championship in 2001 when they won the Challenge Trophy at Vaughan just north of Toronto. They were followed by three teams who won the Jubilee Trophy in an eight-year window: Halifax Athens United at Québec in 2003, Halifax City at St. John's in 2008, and then Halifax Dunbrack SC at Charlottetown in 2010. Western Halifax FC won the Challenge Trophy at Surrey, British Columbia in 2017.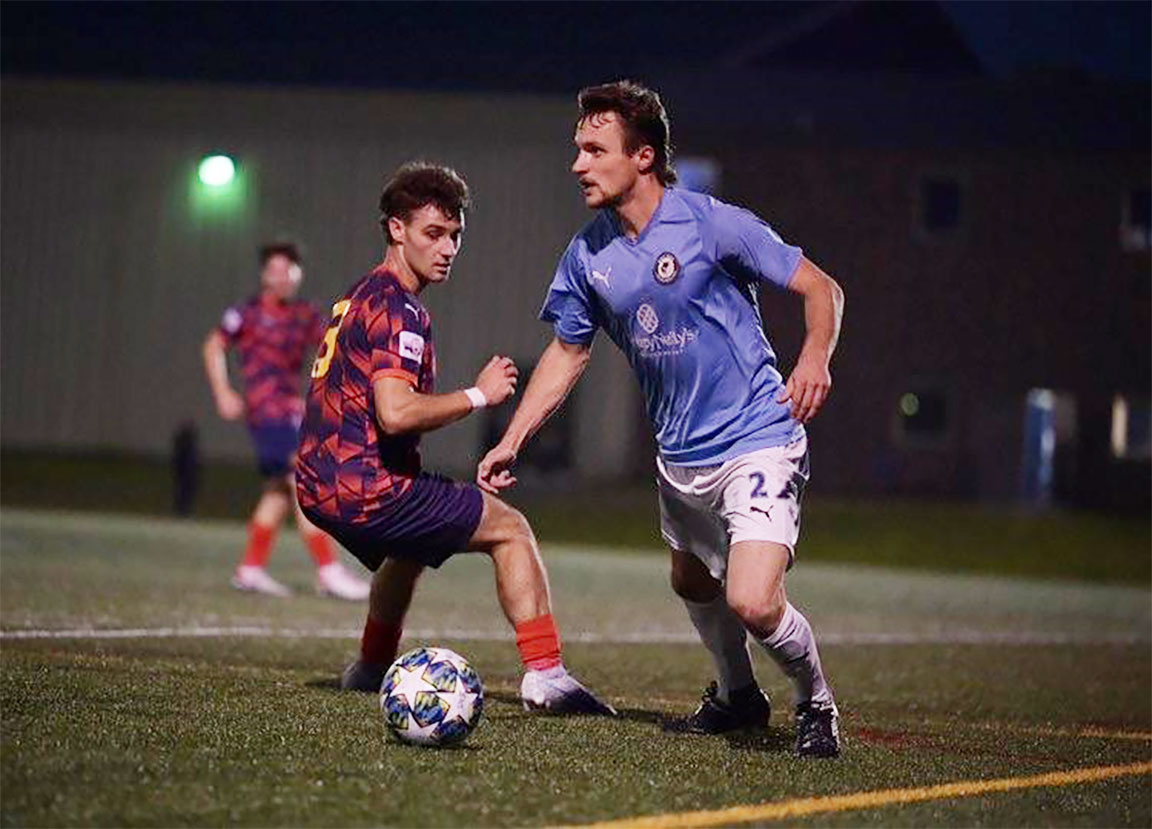 "It would be huge for our team to win after not playing for a few years through the pandemic," said Western Halifax FC player Mike Trim, who missed the tournament in 2017 because of school commitments. "Coming back and making it to this tournament and then winning it would turn heads in our province and it would say that we're back."
Suburban FC won the 2023 Nova Scotia provincial final with a 2:1 win over Western Halifax FC on 10 August (both the winners and runners up qualified for the Toyota National Championships). It was their second provincial title in a row and their third since 2011. Western Halifax FC previously won three-straight provincial titles from 2016 to 2018.
Both sides are missing some key players at the 2023 Toyota National Championships, but they're pushing for first place in Group B against opponents Edmonton Scottish SC, Feildians AA (St. John's) and Winsloe-Charlottetown Royals FC. In the all-Nova Scotia contest, Jared Ndopedro scored the lone goal in the 1:0 win on a header from an Enrico Rodriguez cross in the third minute.
"We got up 1-0 early and we defended and that's how you win trophies," said Trim, who also earned Player of the Match honours in the win.
Western Halifax FC may have got the upper hand on Thursday, but there's sill plenty of football to play in the coming days. As history awaits, an inspired province watches closely.